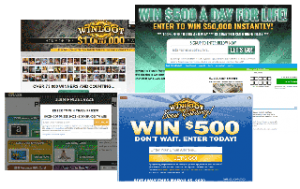 Globalizer properties garner hundreds of billions of pageviews per month across of network of fun, brand-friendly web sites. Each month millions of users pass through Globalizer. We can be a great fit for your marketing plan.  We have CPA and CPC opportunities via web, email, display, linkouts and flows and various hybrid mechanisms for publishers.  Our registration-walled user base ensures high quality, highly-engaged, bot-free traffic .
Review our network of sites, including our flagship properties WInloot.com, Rewardit.com, PrizeCraze.com, UWinIt.com and SweepsKing.com. We are sure we have a fit for you.
Contact us today to discuss marketing opportunities.