Globalizer, LLC develops, owns, operates and manages dozens of high value web properties, serving multiple countries. The great majority of our traffic is behind reg walls ensuring real, engaged users. Whether you are looking for high quality impressions to serve ads for your site, products and/or services or highly qualified users to visit your site our portfolio of properties.
We offer advertisers multiple display opportunities across a wide range of sites covering all demographics. For publishers looking to drive more quality traffic we offer in-flow and co-registration opportunities. Contact us today to discuss mutual opportunities.
We own and manage dozens of highly traffciked web properties, below are just a few.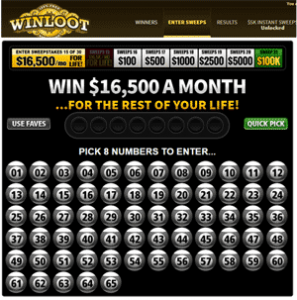 Winloot
Winloot.com is a 100% free sweepstakes site which provides players ninety-six chances to win a variety of different prizes including a $1,000,000 and a $16,500 a Month for Life jackpot each and every day.
All you have to do is register at www.winloot.com with your name, address and email and make sure to confirm your email so we can notify you if you're a winner. Then simply choose the required number of picks for each sweepstakes entry, or choose the Quick Pick option and allow us to randomly select the picks for you, and follow the instructions to submit your entry. The winning numbers for all thirty sweepstakes are conducted shortly after midnight ET so be sure to enter every day.
In addition, you can also play our Instant Win Bonus Game up to sixty-five times per day. Simply choose ten numbers, or chose the "Auto Pick" option and then click "GO". Our computers will automatically select eighteen winning numbers which will then instantly award you either Tokens to be used in other exclusive giveaways or a cash prize.
And if that's not all, there is also a $250 guaranteed winner every single day randomly selected from among all Winloot members who play at least one game. Visit Winloot.com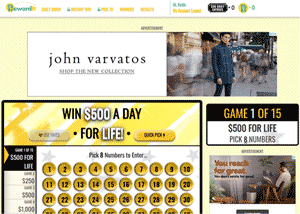 RewardIt
RewardIt.com is a 100% free sweepstakes site which provides players 20 chances to win a variety of different prizes including a $50,000 jackpot in an exciting instant win format in which the winning numbers are generated right after you submit your entry plus another 15 chances to win in our daily drawings with a top prize of $500 a Day for Life. And even if you don't match all the winning numbers, each game you play and each number you match gives puts you in the running for a guaranteed daily prize. And if that's not all, we also have a separate $1,000 Instant Win instant-win sweepstakes game you can play up to 50 times per day. Visit www.rewardit.com.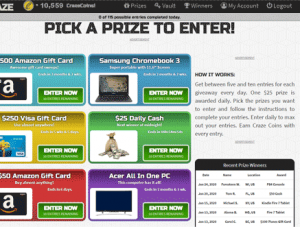 PrizesNow
PrizeCraze is the crazy new sweepstakes site that is sweeping the internet with tons of super easy to enter giveaways that everyone is sure to enjoy. We sincerely hope that you agree! Our employees hail from lots of your favorite sweepstakes sites including OneStopWinning (from way back in the 1990's!!!), Publishers Clearing House (the granddaddy of all sweepstakes companies and the biggest to this day…), Winloot (definitely one of the easiest sites to win cash on) among others. We know and love sweepstakes. We love our players. Let's get crazy and start winning today! Visit PrizeCraze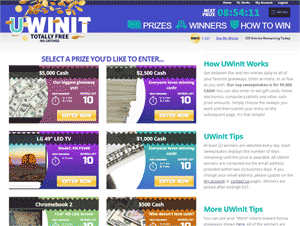 UWinIt
UWinIt.com was created to give sweepstakes enthusiasts an easy and fun way to enter lots of great giveaways. Users are provided a chance to submit a limited amount of entries/day. We want to make sure lots of people win, so we give away 4 Daily Prizes every single day, totaling $80!

Visit
UWinIt.com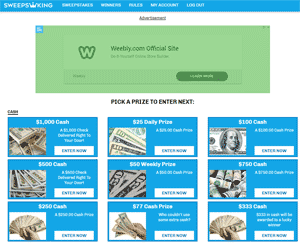 SweepsKing